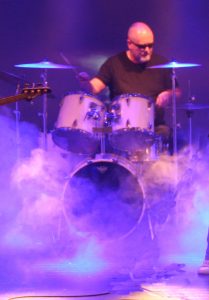 Peter Zeke Ytterberg
Hello all Rockers! My name is Peter Ytterberg but everyone calls me Zeke. I play drums in the band Stormburst. I started playing when I was 12 years old with some frends from my hometown Vansbro in Dalarna, Sweden. When I was sixteen, I started playing in the band Keen Hue who wrote their own songs. I was in the band for almost 15 years. When I was about 30 years, I moved to Stockholm where I started in a band called Moonshine Highway which I played with almost all of my 10 years in the big city. Then it was time to take wife and children to move back to Vansbro. Where I played with various cover bands for a few years before I was asked to join the band Stormburst in 2016. I thought it sounded fun and I liked to play own material again.
It's been pretty good, in the middle of 2017 we will release our debut album Stormburst 'Raised On Rock' hope you will like it.
/Zeke